Don't Assume I'm Drunk - Spastic Cerebral Palsy
At 18 months I was diagnosed with spastic cerebral palsy. At the time, doctors weren't sure if this was purely physical, or if there was a mental component as well. They weren't sure if I would ever ride a bicycle or drive a car. What happened is that the umbilical cord became wrapped around my neck during birth and cut off my oxygen briefly until the doctor could remove it. In today's world this would be known through an ultrasound before birth, but in 1983, in a town of only a few thousand, ultrasounds were not common practice.
In my early years I did not even really realize that anything was different between me and other kids my age. I fought with my sister and went to nursery school just like most other kids. I did go to a lot of physiotherapy to help me do learn simple tasks such as climb steps. At the time this was fun for me; I remember very clearly getting to know all the hospital staff and going for rides down the hall in the laundry ladys cart. As it turned out I had 93 physiotherapy sessions before I started grade primary. Looking back – this was instrumental in my physical development.
At age five I started grade primary and it soon became apparent I could not do much handwriting and begin using a primitive computer to do some of my work. I learned to do much of the work in my head and writing down only the final answer. I had a lot of support to try to make it easier to write; I had a desk sized tilting table to try to hold my paper and the fanciest pencil grips you could every dream of but nothing seemed to really help. I also had a teaching assistant who was available to help with certain tasks. She helped sometimes with writing tests, but also took time to practice things to help my coordination.

I remember one thing I discovered to help when it came to hand writing is writing on the black board. So in grade 3 when everyone was practicing handwriting in writing class – I would go in the front of the class practice writing across the board.
Academically I continued through elementary school without any problems but fitting in socially was a different story. I had "friends", but because I spoke a bit different and moved a bit slower, I often got made fun of with the worst being on my 1 hour school bus ride to and from school. However, believe or not, it wasn't being made fun of that bothered me the most. Even many of the friends I had didn't really treat me like their other friends and ask me to come over and hang out after school. It was kind of that they were my friends during school and I didn't exist outside of school.
Junior high and high school were similar academically in that I often got class notes from classmates with teaching assistants helped scribe for tests and exams. I did as much as possible on the computer, but this was difficult in my math and science classes. My mom spent countless hours writing my homework during evenings and weekends. Some evenings mom would spend 3 – 4 hours helping me even after working all day and she never once complained J Although my work took me much longer than the average student, I generally did not find it difficult consistently averaging 90% or above.
Although I got invited to the rare party with friends and often took in highschool sports games, I spent much of my time outside of school on our family farm where I learned the ways of modern farming. It was on the farm where I was given the respect and responsibility I thought I deserved and knew I could handle. Sure there was a few tasks I physically didn't have the motor skills to do but given the chance I could do most tasks required on this modern dairy and mixed crop farm. At first this was what I did for fun, but I will never forget when my great uncle came out of the house at the end of the day with two folded up $5 bills – my first pay; I could not of been happier. In Nova Scotia you can get your farm tractor license at age 14 which I did and was pulling loads of hay down the road and plowing snow soon after; sometimes working 12+ hours per day. This turned into a full time summer job for me and I was often given the responsibility of doing things that took great skills and over seeing the hired help who by times were double or triple my age.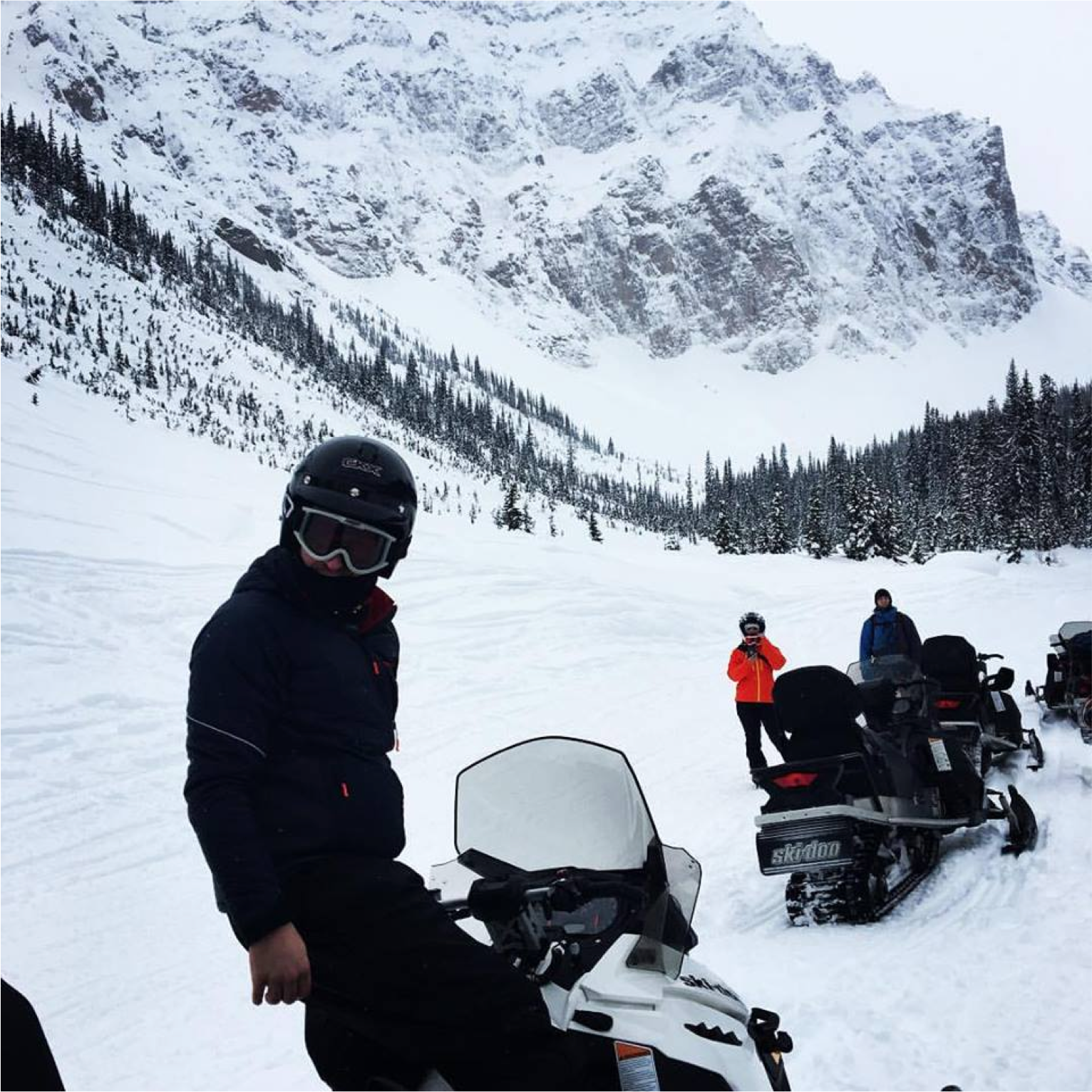 When I wasn't holding up traffic on the road with the farm tractor, I had what you may call an interesting hobby; I grew giant pumpkins and squash. This is something I started at age 6, following in the footsteps of my uncles and cousin and continuing for 20 years. I have many trophies and plaques, which I won, at the county and provincial level. My personal best was a 844lbs squash which won first in the province. I also sold the seeds for as much as $1/seed, but given the amount of time I put in to this hobby, I did not come out on top.
Upon graduation, I had been accepted to 3 Nova Scotian universities to study an undergraduate degree in physics but chose Acadia University where I received a significant renewable scholarship based on my marks.
It was a scary time for me as I moved to the dorms of Acadia , not ever being away from my family for long before. All of a sudden I had to deal with figuring out everything on my own. Living in residence I met a lot of new friends and things seemed to be slowly changing in terms social acceptance from my peers. They began asking me to do things and really made me fell welcome in their groups of friends. A big challenge going into university was who would help scribe my assignments, tests and exams as I no longer had my mom around nor teaching assistants when I needed help. With the help of the physics department at Acadia and the Acadia disability services, one of the senior undergrads was hired by the university to help me with writing when I needed. This took a bit of getting used to but soon became normal and I continued to do well in school.
Scribing continued in a similar way for my second year, but during that year I found a program that allowed to start doing some of the math/physics work on the computer. This really began giving me independence allowing me to do things on my own time and relying less on a scribe.
A big change in my life occurred during the summer after my third year when I stayed at Acadia to do research towards my honors thesis. During the summer there was a limited number of undergraduates who get the chance to do research and they tend to form a very tight knit group; doing everything together. Other than family – this is when I really learned what friends were and became very close to many of the other students around. My honors supervisor gave me a very in depth insight into scientific research and inspired me to apply to do a masters program. I was his only honors student that summer and really learned a lot from our one on one time while doing my research in computer modeling of the Antarctic circumpolar currents. The social aspect of my life continued throughout my 4th year and a good friend nominated me for class Valedictorian. The students than voted me their valedictorian after giving a trial speech.
I didn't find out until about 3 years after my valedictorian speech at Acadia that I inspirited a couple from Huntsville Ontario to set up the Gloria Fulton Memorial Award for students at Acadia who are physically challenged, with preference given to students from Nova Scotia. The couple were at my graduation to see their grandson, but after hearing my speech, they decided to set up the award in memory of their cousin Gloria, who was born and raised in Nova Scotia living all of her eighty years with Cerebral Palsy.
She was in a wheel chair for most of it but remained cheerful and uplifting throughout, an inspiration to all who knew her. The couple along with family members and a close friend of Gloria's helped in finance $25,000 to the Acadia endowment which makes enough interest to give out 1 award per year worth about $1000. The award is now in its 11th year.
After being accepted to a few different universities across Canada to do my masters, I chose Dalhousie University in Halifax with a research project in wind forecasting. My success both socially and academically continued and soon had more friends than I ever had. These friends included me in everything they did and supported me in everyway possible. Through my masters research I spent nearly half my time at Environment Canada's National Lab working with some of their research and operational meteorologists. Through this research I gained a lot of scientific knowledge as well as well as a lot of speaking experience. During my masters a PhD student was hired as a scribe to help me with tests and exams, but for this degree I only needed to take 3 classes so I didn't need a scribe near as much and was able to do most work on my own.
I defended my masters thesis in August 2008 and although I pondered a few options, I decided to continue graduate school to do my PhD.
I really enjoyed my masters but was looking to apply my wind knowledge to an specific application, I got in touch with professor at York University and he spoke to me about an opportunity he had for a PhD student working with Toronto Hydro on an offshore wind energy project. I was immediately interested and decided to move to Toronto in October 2008 to begin my PhD. For this type of degree there is only 3 – 4 classes required and the rest of the degree would be research based. Using the program I discovered in 2nd year of undergrad I could mostly do all courses on the computer without a scribe.
In terms of my PhD research, I was able to do all my work by computer and spend some time at Toronto Hydro's office as part of the NSERC industrial postgraduate scholarship.
At York, part of my duties of a grad student was to TA and although I did mostly marking, on occasion I went into the classroom to help invigilate tests and exams. I really enjoyed doing this and interacting with the students, but it defiantly posed some challenges and stress for me. One time myself and another TA was giving a mid-term to a class of 130 students. There is always a panic to hand the tests out at the beginning to make sure they all have the same amount of time to complete the test. In doing this – you guessed it, I dropped the entire pile L. The near by students helped me pick them up and didn't seem to make a deal out of it, but I felt extremely bad and embarrassed.
In my 4th year of my PhD, I was contacted by a energy trading company in Calgary who were looking for a Meteorologist. Not knowing what this business even was but realizing I had nothing to lose, I went ahead and applied. They soon flew me to Calgary for a interview and offered me a job with them for the next 4 months working mostly from Toronto but spending a few weeks in Calgary. After the 4 months they offered me a full-time position but it had to be based in Calgary, which I accepted. Despite not done my PhD, I moved to Calgary and started working 50-60 hour workweeks. Even with such a demanding work schedule, I managed to spend a hour or 2 each day writing my thesis.
In September 2013 I successfully defended my PhD thesis and officially graduated in June 2014. I have been working in Calgary for 5 years now and last summer actually hired an intern meteorologist which I eventually hired full time . While work is very challenging and demanding, I love what I do and do not let cerebral palsy get in my way from doing a good job. Sometimes things take me a bit longer, but I am more than willing to put in any extra time needed to do my job well.
When I am not working you can probably find me cycling or racing my sports car through the mountain passes of Alberta and British Columbia. I cycled a total of 4000 km this summer.
In recent years I have become more aware of the challenges people with physical disabilities face in every day life . While most people with a physical disability can't change their disability, public stigma around disabilities can change. It is awareness like the sickboy podcast who help brake down these barriers for people with any type of disability. When I was invited to be part of a live recording of an episode of sickboy, I jumped at the opportunity to share my life story in a very candid and funny environment. Just talking with Jeremie, Brian and Taylor for a minute it is easy to tell nothing is more important to them than making sure those with disabilities get treated equally. I am extremely happy to be a part of an episode of sickboy and hope you enjoy listening. Hopefully learn something new about those with disabilities.
I hope to continue creating awareness and have launched a website; feel free to take a look: www.matthewcorkumspeaking.com
Believe in yourself and remember we all believe in each other,